"Narcissistic Personality Disorder". (Click to view link)
Isn't that a way to open up a blog post? I felt it fitting to post this because of two very contrasting emails received over the past few days.
An acquaintance of mine, Len, messaged me while he was stationed in the Dunchurch area. 4th year of owning a small chunk of land where he is slowly building a cabin to retire to, staying in a small RV while onsite. He quipped about the cold weather, citing that if it keeps up, the timber will be rotted before he even gets a chance to drive nails through it.

I concurred, telling him that it was pretty cold down my way, the hydro and heating bills will not be appreciated. Realizing how quickly I responded to his message, he caught me online and we chatted back and forth in Messenger, of note, he mentioned that he had been going through propane very quickly and he might consider a small heat box (as he put it), if he could figure out how to vent it properly. Basically a small wood burning stove, very small, in fact. Similar to that below.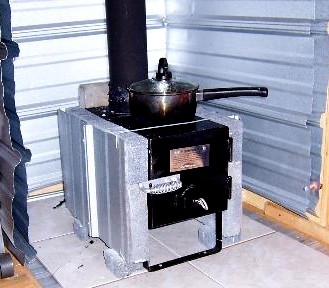 With wood being plentiful on his lot, this seemed like a very good idea. He would still need propane but would certainly reduce his consumption while remaining warm.

During our chat about the stove, he mentioned something that I could picture, very vividly, almost made me feel right at home. To quote "leaving the window cracked just slightly to circulate the air as the stew simmered on the stove." Citing a childhood recollection, he was mentioning how his mother would do so and as he came home from school he could smell the stew before he even entered the property.

I could smell that stew. I knew that stove would make an excellent addition to his RV, but also a great slow cooker. On that note, we ended our chat and made an effort meet up, possibly in spring, for some R&R.

Skimming through more of my emails, I came across another one that made me chuckle. The opposite of what I had just experienced, hence the post title "Every so often".
Yes, Narcissistic Personality Disorder.
Several years of being humored by early morning or late night rants finally tired me out. Before I even finished reading the message, it was sitting in my trash folder. I chuckled, thought to myself that I wasted a few moments of my life again with this diatribe garbage, then looked back at the meaningful message and ensuing chat that I just had a few moments ago. What a difference.
Email is like a newspaper, if you don't like what you read you turn the page.
So I did. And while doing so, I went through other messages, finally cleaning up my inbox, realizing how much time was wasted on frivolous communications. Block users, unsubscribe to mailers. Spring cleanup had come early.
Len called me back on messenger about an hour later. I told him about the "spring cleaning", funny, he said he was tired of junk as well, but deals with it, Google Gmail is pretty good filtering out crap but some stuff comes through. He's subscribed to Sanebox, I tried it, I like it. Working on the trial right now. But that wasn't the reason for the call.
He asked "Do you have a fireplace?".
I hesitated...."No, why do you ask?"
"If you ever need wood, if you get one, help yourself. I should have mentioned that earlier. Guess it's not a big deal though if you can't use it."
"No", I said, I can't, at least not right now, but we have a firepit in the backyard. I'll take you up on that in spring."
"Not a problem", he said. "Have a good one".
Hurry up spring! Enough of this winter!